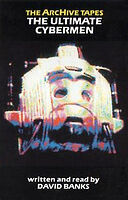 Note: Like the other ArcHive Tapes releases, contains readings by David Banks from his book Cybermen. Was released on CD as part of the ArcHive Tapes: Cybermen CD box set in 2013.
Cover blurb:
Cyber Activity in the Galaxy during the 25th century
incorporating:
Cybermen on Gallifrey (Document 0)
Onslaught on Earth (Document 8)
Departure from Telos (Document 9)
and featuring newly-discovered document
Quest for Power (Document 3a)
as chronicled by ArcHivist Hegelia
Two subspecies had come together. Out of the union was forged a new indomitable breed. CyberNeomorph. A species of breathtaking sophistication. The Ultimate Cyberman. Thus Cybermen created Neomorph in their own perfected image.