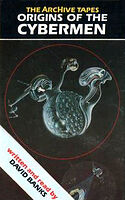 Description: Like the other ArcHive Tapes releases, this release contains readings by David Banks from his book Cybermen, narrating the fictional history of the Doctor's arch-enemies the Cybermen.
Cover blurb:
ENTER THE REALM OF PSEUDO-HISTORY
Establishing the History
It is impossible to establish the definitive History of the Cyber Race. But then, to establish any kind of history is not easy.
When historians write accounts of certain periods in our own past, they must first sift through the original documents of the day. The documents will present different views of what was happening at the time and, inevitably, there will be some facts in one document which appear incompatible with those in another. But given enough documents, sufficient facts, a penetrating mind and plenty of hard work, the historian can eventually arrive at a coherent explanation of the trends of the time and the dating of events, even when these have not always been explicitly stated.
What we accept as historical truths have almost always gone through a process of growth. It is similar to the way that, say, anthropological truths are established: Darwin's view of how humans evolved was radical and fiercely contested in his time but is now largely accepted. One historian, having looked at the available facts in a certain way, will contruct a framework within which they seek to fit. Another historian, having unearthed a few new facts and seeing the old facts in a new way, will challenge the first theory and propose an alternative one. Gradually, a general picture emerges which is accepted as representing the truth.
But the truth is never absolute. A more radical historian is certain to come along with a totally different but more convincing version of the truth. After much recrimination and heated exchange it will eventually enter the popular mind as Established History.