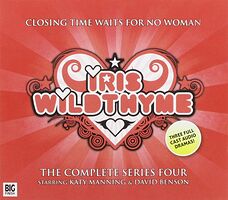 Note: Box set of three original audio dramas.
Cover blurb:
Three Full Cast Audio Dramas
Starring Katy Manning & David Benson
Directed By Gary Russell
Whatever Happened To Iris Wildthyme by Cavan Scott and Mark Wright
Iris at the Oche by Mark Wright
A Lift In Time by David Bryher
Iris Wildthyme's past is catching up with her. Or is it the future? Bouncing from party to party all through history, everyone's favourite trans-temporal adventuress is running out of time. Literally! From a darts championship that could decide the fate of the multiverse to the cold moon of Semi-Quaver, Iris and her best friend Panda battle marauding bulls from the end of time, sinister time shades and an insane artificial intelligence hell-bent on destroying creation.
The universe without Iris Wildthyme scarcely bears thinking about...
Also starring: Sophie Aldred, Bernard Holley and Simon Fisher-Becker