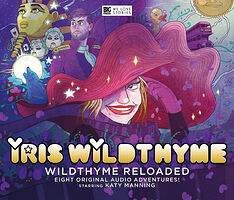 Cover blurb:
Join trans-temporal adventuress Iris Wildthyme (KATY MANNING) for a series of eight brand-new adventures as she travels through time and space aboard her trusty double-decker bus, accompanied by her new friend Captain Turner (GEOFFREY BRETON)...
Follow their journey from present day Earth, where an '80s one-hit wonder is being plagued by alien puppets, to a mysterious residence commissioned by none other than Iris herself! Elsewhere, a Scottish supermarket is playing host to an ancient oracle, whilst an English abbey proves to be the perfect setting for a classic murder mystery!
In the far-future, all bets are off at an Egyptian-themed space-casino, before things start going bump in the night on the most haunted planet in the universe. However it isn't long before Iris and Turner come crashing back to Earth when an ancient Belgian legend threatens the cosmos, and Iris finds herself pondering what the future might have in store... and who with?