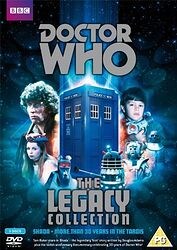 Edition:
UK (DVD)
Released:
January 2013

Publisher:
BBC Video
Format:
3 x DVD
Owned:
Buy:
Cover blurb:
Tom Baker stars in Shada — the legendary "lost" story written by Douglas Adams plus the lavish anniversary documentary celebrating 30 years of Doctor Who!
Blurbs for the two DVD cases inside the outer sleeve are as follows:
Shada (2 discs)
The Doctor, Romana and K9 receive a message from an old friend — a retired Time Lord living as a college professor in Cambridge. He's misplaced an ancient Gallifreyan artifact that could unlock the dark secrets of Shada — the lost prison planet of the Time Lords — and unless they find it before the crazed scientist Skagra, every sentient being in the universe is doomed.
This special DVD release features the legendary unfinished Fourth Doctor story, newly restored from original film negatives and studio recordings, with 1992 linking material from Tom Baker.
More Than 30 Years in the TARDIS (1 disc)
An extended version of a documentary first shown in November 1993 as part of the 30th anniversary celebration of everybody's favourite science-fiction series, Doctor Who.
Including contributions from Doctors Jon Pertwee, Tom Baker, Peter Davison, Colin Baker and Sylvester McCoy, plus a whole gang of their companions, More than 30 Years in the TARDIS was a fitting tribute to a series that had ended in 1989. With many stunning recreations of classic scenes, this special documentary contains rare footage, deleted scenes and classic monsters as you've never seen them before.