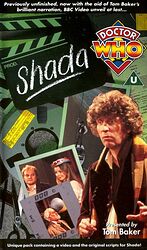 Edition:
UK (VHS)
Released:
July 1992

Publisher:
BBC Video
Format:
1 x VHS PAL
Owned:
Buy:
Note: Single tape release, packaged in a double tape box with an exclusive paperback book containing the script.
Cover blurb:
SHADA. The long forgotten adventure destined to bring the Doctor face to face with the evil Skagra and his master plan for total omnipotence.
Recording of this 6 part adventure in 1979 was sadly never completed until now — with the aid of Tom Baker, Doctor No. 4. Now all available filmed and recorded sequences are linked by his brilliant narration allowing BBC Video to unveil Shada in its entirety at last.
When one of the Artefacts of Gallifrey — a dangerous book dating back to the time of the all-powerful Rasillon [sic] — goes missing from his study, Cambridge professor and retired Timelord [sic] Dr. Chronotis calls in the aid of the Doctor and Romana. The Doctor is very worried. Who knows what powers could be unleashed if the book falls into the wrong hands? Then the mysterious Skagra arrives, armed with a thought-draining sphere and a scheme for one universal mind. But first he must get hold of the book...
This unique pack contains a video and a copy of the original scripts — a great addition to the wealth of Doctor Who titles on BBC Video.
With thanks to the Museum of the Moving Image - London