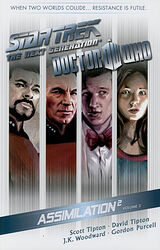 Note: Trade paperback edition of the Star Trek: The Next Generation / Doctor Who crossover comic series. Follows Volume 1, and both graphic novels were later reprinted in hardback as one omnibus volume.
Cover blurb:
"Assimilation²" is the crossover event of the year. It is a great bit of fan service that we have been wanting for years to see. The Who and Trek crews combine to face the biggest threat either have ever seen, and it is exhilarating!
— COMIC BOOK THERAPY
The two greatest science-fiction properties of all time cross over for the first time, in Star Trek: the Next Generation/ Doctor Who: Assimilation²!
Captain Jean-Luc Picard and the crew of the USS Enterprise have joined forces with the Doctor and his companions to combat an unholy alliance between the Federation's most terrifying enemy and one of the Doctor's greatest antagonists. But now the Cybermen have turned on their Borg allies, the Doctor and Picard find themselves at odds over how to proceed against the threat, with the fate of the universe hanging in the balance!