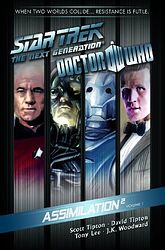 Note: Trade paperback edition of the Star Trek: The Next Generation / Doctor Who crossover comic series. Followed by Volume 2, and both graphic novels were later reprinted in hardback as one omnibus volume.
Cover blurb:
"Wonderfully written and beautifully rendered, if you're a fan of either property, you'll definitely want to pick this up" — GeeksOfDoom.com
The two greatest science-fiction properties of all time cross over for the first time in history, in STAR TREK: THE NEXT GENERATION / DOCTOR WHO: ASSIMILATION²! When the Federation's most terrifying enemy strikes an unholy alliance with one of the Doctor's most hated antagonists, the result is devastation on a cosmic scale! Spanning the ends of space and time itself, Captain Jean-Luc Picard and the crew of the USS Enterprise find themselves joining forces with the Doctor and his companions, with the fate of the galaxy hanging in the balance!