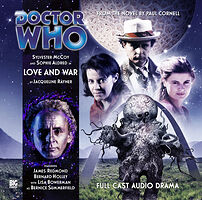 Description: Audio adaptation of the 1992 New Adventures novel which introduced the character of Bernice Summerfield.
Cover blurb:
On a planet called Heaven, all hell is breaking loose.
The Doctor arrives on a trivial mission — to find a book, or so he says — and Ace, wandering around Joycetown, becomes involved with a charismatic Traveller called Jan. But the Doctor is strenuously opposed to the romance. What is he trying to prevent? Is he planning some more deadly game?
Archaeologist Bernice Summerfield thinks so. Her destiny is inextricably linked with that of the Doctor, but even she may not be able to save Ace from the Time Lord's plans.
This time, has the Doctor gone too far?