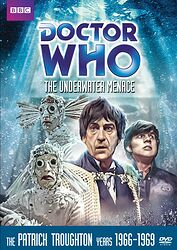 Edition:
US (DVD)
Released:
May 2016

Publisher:
BBC Video
Format:
1 x DVD
Owned:
Buy:
Note: Was exclusively available in Barnes & Noble on May 10th, two weeks before the official launch date of May 24th.
Cover blurb:
The TARDIS lands in the lost city of Atlantis, where the crazed Professor Zaroff has convinced the Atlanteans that he can raise their city from beneath the sea. But the Doctor discovers the terrible truth behind Zaroff's plan — he intends to destroy the entire planet. With the doomsday clock ticking, the Doctor and his companions must battle to prevent the apocalypse...
Episodes 2 and 3 of this adventure feature fully restored picture and audio. The missing episodes, 1 and 4, are presented using photographic stills and a restored soundtrack.
DVD EXTRAS INCLUDE:
Commentary with Patrick Troughton's son Michael (Episode 1), actors Anneke Wills (Polly), Frazer Hines (Jamie), Catherine Howe (Ara), Special Sounds Supervisor Brian Hodgson and Floor Assistant Quentin Mann (Episodes 2 & 3), and archival material from Patrick Troughton, Directors Julia Smith and Hugh David, and Producer Innes Lloyd. (Episode 4). Moderated by Toby Hadoke
A Fishy Tale Anneke Wills, Frazer Hines, Catherine Howe, Assistant Floor Manager Gareth Gwelan, Production Assistant Berry Butler and writer Robert Shearman look back at the making of this controversial story. Narrated by Peter Davison.
The Television Centre of the Universe — Part Two
Photo Gallery
Digitally remastered picture & sound quality
Originally transmitted January 14 - February 4, 1967