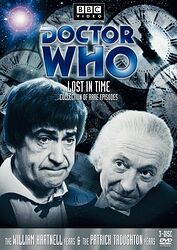 Edition:
US (DVD)
Released:
November 2004

Publisher:
BBC Video
Format:
3 x DVD
Owned:
Buy:

| | | |
| --- | --- | --- |
| | | (Not currently available) |
Cover blurb:
Never broadcast in the US, these episodes offer an enticing glimpse into 'lost' stories that have achieved legendary status. Fans can relish rare appearances of the Daleks, Cybermen and Yeti, as well as guest star turns by Julian Glover (Indiana Jones and the Last Crusade), Michael Gough (Batman) and Jean Marsh (Upstairs, Downstairs). New to video is Episode 2 of The Daleks' Masterplan, the story that marked the series debut of Nicholas Courtney, who later returned time and again as Brigadier Lethbridge-Stewart.
Includes episodes from: The Crusade, The Daleks' Masterplan, The Celestial Toymaker, The Underwater Menace, The Moonbase, The Faceless Ones, The Evil of the Daleks, The Abominable Snowmen, The Enemy of the World, The Web of Fear, The Wheel in Space, and The Space Pirates.
DVD EXTRAS INCLUDE:
Audio commentary by actors Julian Glover, Peter Purves, Kevin Stoney, and Deborah Watling, director Tristan de Vere Cole, designer Raymond P. Cusik [sic], story editor Derrick Sherwin and moderator Gary Russell
Narrative Links for The Crusade
Episode 2 & 4 Audio for The Crusade
Episode 1 & 3 Audio for The Moonbase
The Missing Years — 50-minute feature on lost episodes
Surviving footage from The Daleks' Master Plan, The Smugglers, The Tenth Planet, The Macra Terror, The Underwater Menace, The Highlanders, The Power of the Daleks, The Web of Fear, The Abominable Snowmen, The Wheel in Space, The Space Pirates and Fury from the Deep
The Last Dalek
8mm Off-screen clips