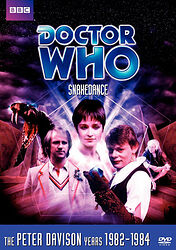 Note: This story is only being released separately in the US. In the UK and Australia it is instead being released as part of the Mara Tales box set, along with Kinda.
Cover blurb:
The TARDIS makes an unplanned landing on Manussa, where preparations are underway to celebrate the defeat of the Sumaran Empire five centuries earlier. But the ancient evil of the Mara lives on, and Tegan, who has been haunted by disturbing dreams since her time under the Windchimes on Deva Loka, is now a pawn in its plan to re-enter the physical world and subjugate the Manussan people.
Only the Doctor can stop the Mara — but first he must convince the authorities that he is not just a deluded fool who believes in children's fairytales.
DVD EXTRAS INCLUDE:
Audio Commentary by actors Peter Davison (the Doctor), Janet Fielding (Tegan) and Sara Sutton (Nyssa)
Snake Charmer Making Of featurette with director Fiona Cumming, writer Christopher Bailey, script editor Eric Saward and designer Jan Spoczynski (24 mins)
In Studio Behind the scenes during recording of effects sequences (6 mins)
Deleted Scenes From the original ending of Part Four (3 mins)
Saturday Superstore Peter Davison guests (14 mins)
Isolated Music Score
Photo Gallery (5 mins)
PDF materials: Radio Times Listings
Production Notes Subtitle Option
Digitally remastered picture and sound quality
Originally transmitted January 18, 19, 25, 26, 1983