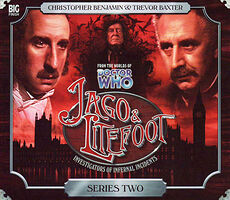 Note: Box set of 4 audio dramas, plus an extra CD of behind-the-scenes interviews.
Cover blurb:
FOUR FULL-CAST ADVENTURES!
Starring CHRISTOPHER BENJAMIN and TREVOR BAXTER
With CONRAD ASQUITH, LISA BOWERMAN and DAVID COLLINGS
LITEFOOT AND SANDERS
Jago has been usurped as Litefoot's loquacious lieutenant but is his supplanter all he seems to be?
THE NECROPOLIS EXPRESS
Jago and Litefoot face a night of macabre intrigue aboard a train with a ghostly cargo.

THE THEATRE OF DREAMS
Will it be curtains for Jago and Litefoot as a sinister sideshow threatens to permanently upstage them?
THE RUTHVEN INHERITANCE
Outmanoeuvred by their adversary and with no one to turn to, can Jago and Litefoot avert catastrophe?