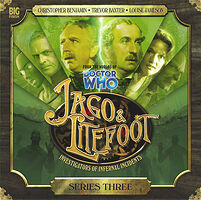 Note: Box set of 4 previously-unreleased audio dramas, plus an extra CD of behind-the-scenes interviews.
Cover blurb:
FOUR FULL-CAST ADVENTURES!
Starring CHRISTOPHER BENJAMIN, TREVOR BAXTER & LOUISE JAMESON
With CONRAD ASQUITH, LISA BOWERMAN & PHILIP BRETHERTON
DEAD MEN'S TALES
Jago and Litefoot are reunited with the Doctor's companion Leela and together they battle dead sailors, risen from the Thames.
THE MAN AT THE END OF THE GARDEN
A character from a children's book proves to be a very real menace to the investigators.
SWAN SONG
There's an outbreak of ghosts at the New Regency Theatre. But who is haunting who? And why?
CHRONOCLASM
Time is tangled almost to breaking point. Jago, Litefoot and Leela prepare to face their enemy before the world is destroyed.