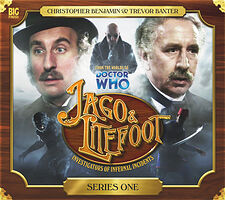 Note: Box set of 4 audio dramas (plus an extra CD of behind-the-scenes interviews). The stories are: The Bloodless Soldier by Justin Richards, The Bellova Devil by Alan Barnes, The Spirit Trap by Jonathan Morris, and The Similarity Engine by Andy Lane.
Cover blurb:
FOUR FULL-CAST ADVENTURES!
Starring CHRISTOPHER BENJAMIN and TREVOR BAXTER
With CONRAD ASQUITH, LISA BOWERMAN and TOBY LONGWORTH
THE BLOODLESS SOLDIER
A group of soldiers return from overseas service, but they have brought a terrible evil back with them.
THE BELLOVA DEVIL
Jago and Litefoot investigate the apparent killing of a man who is already dead.
THE SPIRIT TRAP
Jago and Litefoot investigate a psychic medium.
THE SIMILARITY ENGINE
The plans of the sinister Doctor Tulp come to terrifying fruition.