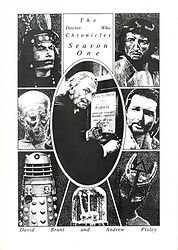 Cover blurb:
"It all began as a mild curiosity in a junkyard, and now it's become quite a great spirit of adventure."
Dr Who? That is just the point. Nobody knows precisely who he is, this mysterious exile from another world and a distant future. But this much is known: he has a ship in which he can travel through space and time — although, owing to a defect in the instruments he can never be sure where and when his 'landings' may take place.
Because of the imperfections in the ship's navigation aids, the four travellers are liable to find themselves absolutely anywhere in time — past, present or future. They may visit a distant galaxy where civilisation has been devastated by the blast of a neutron bomb or they may find themselves journeying to far Cathay in the caravan of Marco Polo. The whole cosmos in fact is their oyster.
The Doctor Who Chronicles - Season One
An episode-by-episode synopsis guide to the first season of "Doctor Who", from both versions of 'An Unearthly Child' to 'Prisoners of Conciergerie', detailing script deletions and amendments, original storyline ideas and notes on the finished episodes.
Also including a section covering the stories originally planned for inclusion in the season but, for one reason or another, were abandoned before production.