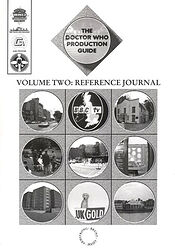 Note: Limited to 500 numbered copies. Sequel to Volume One and followed by Volume Three.
Cover blurb:
The definitive Doctor Who reference book.
Featuring in-depth day-to-day listings of every studio and location recording, as well as all cancelled sessions, remounted days and unrecorded material, detailing extensively what was recorded where and when upon each day from 1963 to 1996.
Full details and durations of every music track, piece of stock film and location recorded sequence used in the series.
Complete listings of thirty-three years of British television, radio and satellite broadcasts, original and repeat screenings. Episode durations, exact broadcast times, ratings and extensive notes.
Coverage of documentaries, spin-offs and other miscellany.
The most information about Doctor Who published in one volume.
This is the second in a series of volumes which will cover every aspect of the world's longest-running science fiction series.