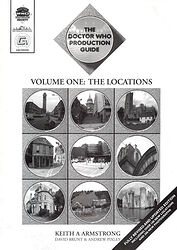 Edition:
UK (2nd paperback)
Released:
October 1998

Publisher:
Doctor Who Appreciation Society
ISBN:
None
Format:
paperback
Owned:
Buy:
Note: Updated perfect-bound edition (i.e. standard paperback binding). Sadly the "Volume 4: The Archives" mentioned in the cover blurb was never published.
Cover blurb:
If you have ever wanted to know where location recording took place in Doctor Who, or just wondered how many quarries have been used during the production of the first 35 years of the series — then this has to be the book for you.
Documenting every story from 100,000 BC to the 1996 TV movie — including K9 and Company: A Girl's Best Friend — this volume covers the counties of England and Wales, London and overseas locations.
Features include detailed directions, production notes and over 500 up-to-date photographs of the sites as they appear today.
Researched over a number of years, the locations are listed under their correct geographical names, rather than the sometimes incorrect names listed in official documentation.
This completely re-written second edition includes detailed production notes, entries for over 100 new sites and over 200 additional photographs.
This is the first in a series of volumes which will cover every aspect of the recording of the world's longest running science fiction series.
The Doctor Who Production Guide is currently:
Volume One: The Locations, Volume Two: Reference Journal, Volume Three: Cast and Crew
In preparation:
Volume Four: The Archives