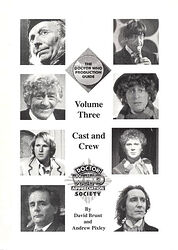 Description: A-Z directory of all the cast and crew involved in the production of the classic Doctor Who series from 1963 to 1996.
Cover blurb:
"Old principle but I've never seen it applied on this scale. Look at them, there must be hundreds here!"
Have you ever watched a "Doctor Who" story and can't quite recall the names of all the actors, or are curious about the name of the man who you can always spot standing near the Doctor wearing a silly hat or a space suit but who seldom says a word. This book not only provides the names of all the lead actors and the numerous background walk-on artists, but also in many cases includes more information about the cast and credits of "Doctor Who" than you ever thought possible. Now at last you can put a name to those favourite faces (hint — it was probably Pat Gorman, or Stuart Fell, or Terry Walsh, or Cy Town, or Keith Ashley, or Derek Chafer, or... just look in the book yourself!)
The Doctor Who Production Guide Volume Three - Cast and Crew
A complete story-by-story guide to the people who made "Doctor Who", the full list of lead and guest actors and background (or walk-on) artists who appeared on screen — even those who were originally contracted to appear but were replaced before recording — and the most complete listing of behind-the-scenes Production Crew members.