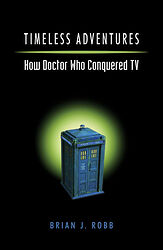 Edition:
UK (1st paperback)
Released:
November 2009

Publisher:
Kamera Books
ISBN:
978-1-84243-302-7
Format:
paperback
Owned:
Buy:

| | | |
| --- | --- | --- |
| | | (Unable to fetch price) |
Cover blurb:
This 'critical' history of Doctor Who covers the series' entire 45 years, from the creation of the show to its triumph as Britain's top TV drama.
Opening with an account of the series' creation in the early 1960s, each decade is tackled through a unique political and pop cultural viewpoint, drawing links between contemporary Britain and the Doctor Who stories.
Timeless Adventures reveals how Doctor Who is at its strongest when it reflects the political and cultural concerns of a mass British audience (the 1960s, 1970s and twenty-first century), and at its weakest when catering to a narrow fan-based audience (the 1980s). Chapters discuss the cultural and political relevance of Doctor Who monsters like the Daleks and the Cybermen, through to themes like energy and the environment.
The book also addresses the cancellation of the show in the late 1980s and its regeneration for the twenty-first century under Russell T. Davies, revealing what has made the new series so popular, and its reflection of real world issues such as consumerism and dieting. It includes unique interviews with Doctor Who producers Barry Letts and Philip Hinchcliffe.
BRIAN J. ROBB is a writer and biographer whose previous books have included a New York Times best-selling biography of Leonardo DiCaprio; Screams & Nightmares, the definitive book on horror director Wes Craven; biographies of Johnny Depp and Ewan McGregor; and Counterfeit Worlds, a study of the films of Philip K. Dick. He is currently managing editor at Titan Magazines. He is editor-in-chief of the Official Star Wars Insider Magazine, and oversees magazines for Lost, Stargate, Smallville, Star Trek and Supernatural, as well as being managing editor on Total Sci Fi, an international cult film and television web site.