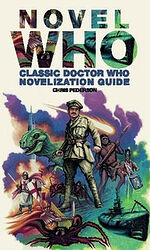 Cover blurb:
Inside this Classic Doctor Who Novelization Guide you will find out what is remarkable, or in some cases, unremarkable, about all the novelized adventures.
What was the author's inspiration?
What was cut from the televised story that was retained in the novelization?
What was added?
These questions and more are answered throughout the guide to add to the reader's appreciation of the novels.
Whether you are just starting your collection or want to find out more about what you already have, this book is a great addition to your shelves.