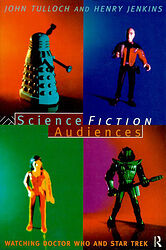 Edition:
UK (paperback)
Released:
March 1995

Publisher:
Routledge
ISBN:
0-415-06141-5
Format:
paperback
Owned:
Buy:

New:

£34.99

£17.53 Save 50%
Used:
£0.20

New:

$46.95

$25.45 Save 46%
Used:
$2.35
Cover blurb:
WHY ARE Star Trek AND Doctor Who SO POPULAR?
THESE TWO SCIENCE FICTION SERIES have both survived cancellation and continue to attract a huge community of fans and followers. Doctor Who has appeared in eight different TV and film guises and Star Trek is now approaching its fourth television incarnation. Science Fiction Audiences examines the continuing popularity of two television 'institutions' of our time.
Through dialogue with fans and followers of Star Trek and Doctor Who in the US, Britain and Australia, John Tulloch and Henry Jenkins ask what it is about the two series that elicits such strong and active responses from their audiences. Is it their particular intervention into the SF genre? Their expression of peculiarly 'American' and 'British' national cultures? Their ideologies and visions of the future, or their conceptions of science and technology? None of these works in isolation, because, as the plentiful interviews with fans and followers illustrate, audiences actively play with their entertainment according to complex and shifting categories of recognition, competence and pleasure.
Science Fiction Audiences responds to a rich fan culture which encompasses debates about fan aesthetics, teenage attitudes to science fiction, queers and Star Trek, and ideology and pleasure in Doctor Who. It is a book both for fans of the two series, who will be able to continue their debates in its pages, and for students of media and cultural studies, offering a historical overview of audience theory in a fascinating synthesis of text, context and audience study.
John Tulloch is Professor of Cultural Studies at Charles Sturt University and Henry Jenkins is Director of Film and Media Studies at MIT.