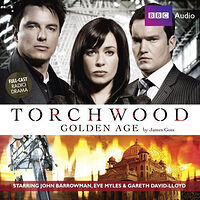 Note: Subsequently re-released as part of the box sets The Radio Adventures and The Collected Radio Dramas.
Cover blurb:
John Barrowman, Eve Myles and Gareth David-Lloyd star in a full-cast radio adventure based on the hit BBC TV series
On the trail of a dangerous energy field, Torchwood are led to Delhi. There they witness the simultaneous disappearance of hundreds of people, and Jack discovers that the field centers on an old colonial mansion — Torchwood India.
Jack is shocked to find that Torchwood India is still going strong — he shut it down himself over 80 years ago. He's even more surprised to find that its members, including his old flame the Duchess, haven't aged a day.
What is the secret of their eternal youth, and how is it linked to the deadly energy field? The team must find out — and they haven't a moment to lose, for all the time the field is expanding...
Written specially for BBC Radio by James Goss, Golden Age stars John Barrowman as Captain Jack Harkness, Eve Myles as Gwen Cooper and Gareth David-Lloyd as Ianto Jones.