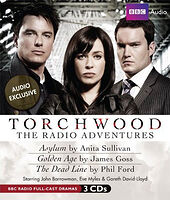 Edition:
US (CD)
Released:
September 2009

Publisher:
BBC Audio
ISBN:
978-1-60283-712-6
Format:
3 x CD
Owned:
Buy:
Note: Box set containing the 3 previously-released audio dramas Asylum, Golden Age and The Dead Line.
Cover blurb:
Three Original Torchwood Radio Dramas, Starring John Barrowman as Captain Jack Harkness, Eve Myles as Gwen Cooper, and Gareth David-Lloyd as Ianto Jones
ASYLUM, written by Anita Sullivan
When PC Andy Davidson arrests a girl for shoplifting, it seems like a routine case, until he sees that she is carrying a gun like none he's ever seen. The Torchwood team discovers that the girl is called Freda. She speaks a strange mix of English and Icelandic, with a Welsh accent. While Jack and Ianto check out the girl's weapon and blood sample at the Hub, Gwen and PC Andy take Freda to a safe house. But when Jack calls with the results — and Freda goes on the run — PC Andy finds his world turned upside down. Tom Price stars as PC Andy Davidson.
GOLDEN AGE, written by James Goss
On the trail of a dangerous energy field, Torchwood are led to Delhi. There they witness the simultaneous disappearance of hundreds of people, and Jack discovers that the field centers on an old colonial mansion — Torchwood India. Jack is shocked to find that Torchwood India is still going strong — he shut it down himself over 80 years ago. He's even more surprised to find that its members haven't aged a day. What is the secret of their eternal youth, and how is it linked to the deadly energy field?
THE DEAD LINE, written by Phil Ford
When a hospital is inundated with patients that have fallen into coma-like trances, Torchwood move in to investigate. They find that the trances were triggered by phone calls made from a number that hadn't been active for over 30 years. Jack rings the mysterious number — two, zero, five, nine — nothing. It's a dead line. Until it calls Jack back. He answers — and falls into a deep trance. The team race against time to find the source of the "infection" and save the patients.