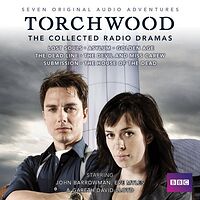 Description: CD box set containing the previously-released audios Lost Souls, Asylum, Golden Age, The Dead Line and The Lost Files (including The Devil and Miss Carew, Submission and The House of the Dead).
Cover blurb:
John Barrowman, Eve Myles and Gareth David-Lloyd star in seven full-cast BBC Radio 4 dramas based on the hit BBC TV series
In Lost Souls by Joseph Lidster, voices from the past are calling out from the Large Hadron Collider at CERN, and scientists are disappearing. Can Torchwood help?
In Asylum by Anita Sullivan, PC Andy Davidson turns to Torchwood after he arrests a very unusual shoplifter. Who is Freda, and where she is from?
In Golden Age by James Goss, Jack discovers that a dangerous energy field centres on an old colonial mansion: Torchwood India.
In The Dead Line by Phil Ford, a Cardiff hospital is inundated with patients who have fallen into coma-like trances, all of them triggered by phone calls...
In The Devil and Miss Carew by Rupert Laight, Gwen and Rhys are involved in a nursing home mystery. What is Miss Carew's connection with a series of national power cuts?
In Submission by Ryan Scott, the Torchwood team find themselves at the mercy of a hungry alien at the bottom of the sea...
In The House of the Dead by James Goss, a special séance is held at the most haunted pub in Wales — but when the ghosts start arriving, all hell breaks loose...
With a guest cast including Freema Agyeman, Tom Price, Martin Jarvis and Rosalind Ayres, the collection includes a bonus behind-the-scenes feature, Torchwood: All Access.