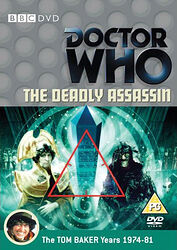 Edition:
UK (DVD)
Released:
May 2009

Publisher:
BBC Video
Format:
1 x DVD
Owned:
Buy:
Note: Unlike most of the other UK DVD releases (which are coded both for Region 2 & Region 4), this UK release for some reason is Region 2 only — Aussies who import their DVDs from the UK, please note!
Cover blurb:
Gallifrey. Planet of the Time Lords. The Doctor has finally come home, but not by choice.
Summoned by a vision from The Matrix, he is drawn into web [sic] of political intrigue and assassination. Nothing is quite what it seems, and in the shadows lurks his oldest and deadliest enemy...
SPECIAL FEATURES
Commentary by Tom Baker (The Doctor), Bernard Horsfall (Goth) and Philip Hinchcliffe (Producer)
The Matrix Revisited Cast, crew and critics look back at the making of this story, featuring director David Maloney, designer Roger Murray-Leach and the founder of the National Viewers and Listeners Association, Mary Whitehouse
The Gallifreyan Candidate A look at Richard Condon's novel The Manchurian Candidate, a major influence on the plot of The Deadly Assassin
The Frighten Factor What exactly is Doctor Who's 'Frighten Factor'? A diverse panel of experts try to answer the question
Radio Times Billings Listings for this story presented in a PDF file (DVD-ROM — PC/Mac)
Photo Gallery
Coming Soon Trailer
Production Information Subtitles
Easter Egg
Digitally remastered picture and sound quality
This story was originally broadcast on BBC1 between 30th October - 20th November 1976