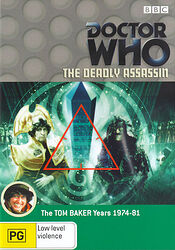 | | | |
| --- | --- | --- |
| | | |
| | Reviews for The Deadly Assassin | |
| | | |
There are 4 reviews so far. To add a review of your own for this item, visit the voting page.
By:
Trevor Smith, Nottingham, United Kingdom
Date:
Thursday 18 June 2009
Rating:
10
One of the famous (some would say infamous) episode is now out on DVD. And what a corker it is. Highly recommended.
| | | |
| --- | --- | --- |
| | | |
| | No companion? "It's never been done..." | |
| | | |
By:
Huw Davies, Taunton, United Kingdom
Date:
Sunday 21 February 2010
Rating:
10
Looking at DWM's recent 'Mighty 200' survey, it's good to see 'The Deadly Assassin' in the Top 20, which is where it belongs. This is a cracking thriller, with superb cliffhangers (yes, even that silly train!) and great characters.
The imagery of the story also stands out. The design is brilliant, as well as the Master - reduced to a goggle-eyed 'husk', he looks positively menacing and really quite creepy.
The DVD of this story is also good. We have the usual informative making-of, plus and interesting look at Doctor Who's 'Frighten Factor'. One feature that isn't brilliant is 'The Gallifreyan Candidate', looking at the similarities with the book and film 'The Manchurian Candidate. Also worth a look is the often-overlooked photo gallery.
Overall, one of 2009's 'must-haves'.
| | | |
| --- | --- | --- |
| | | |
| | Gothic Masterpiece of cake | |
| | | |
By:
Matthew David Rabjohns, Bridgend, United Kingdom
Date:
Wednesday 9 March 2011
Rating:
10
This story is THE gothic jewel in the crown of Doctor Who. It is yes, at times very gritty and pretty violent too. But the script flows along so well, and the production values are tremendous.

Peter Pratt is a revelation as the disfigured Master, which looks grossly realistic and frightening. And to consider the fact that he usually did comedy really is something. For there is nothing comic about this Master at all. He is at his darkest, evil best. Rob Holmes really reached his peak here, his script sparkles with brilliant dialogue. Episode Three is a surreal extreme piece of brilliance, which could even teach a few Arnie films about great set pieces!

Bernard Horsfall is cast and is great as the bent Chancellor, and his character isnt likeable like all his other ones, here he's displaying a moron chillingly. The single most scariest scene on this story is that clowns face in the mirror. I jumped out of my skin at that when i first saw that! This story deserves its status as one of the best stories in Doctor Who history...
By:
David Harding, Middlesbrough, United Kingdom
Date:
Tuesday 27 October 2015
Rating:
10
Got it for my birthday and I honestly couldn't be happier...