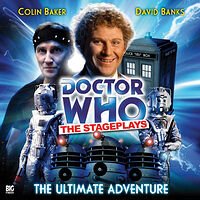 Note: An audio adaptation of the 1989 Doctor Who stageplay. One of three "Doctor Who: The Stageplays" audios released by Big Finish in 2008. The others were Seven Keys to Doomsday and The Curse of the Daleks. A sequel titled Beyond the Ultimate Adventure was released in 2011.
Cover blurb:
The Daleks have allied themselves with the Cybermen and a deadly band of mercenaries. The future of Earth depends upon a vital peace conference. And Mrs T knows that only one Time Lord can save the world.
There are epic battles. There are betrayals. There is love, and there are even songs.
Take your seat for... Doctor Who — The Ultimate Adventure!