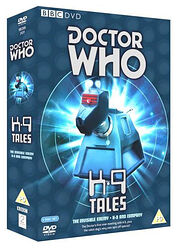 Edition:
UK (DVD)
Released:
June 2008

Publisher:
BBC Video
Format:
2 x DVD
Owned:
Buy:
Cover blurb:
The Doctor's first ever meeting with K-9, plus the robot dog's very own spin-off special!
Cover blurbs for the two individual DVDs inside the box set are as follows:
The Invisible Enemy:
While answering a mayday from a refuelling station on Saturn's largest moon, the TARDIS passes through a mysterious cloud. Alarmed, Leela senses a malevolent presence. The danger turns out to be an intelligent space virus, and the Doctor is soon infected and fighting for control of his mind.
With the Time Lord incapacitated, Leela's only hope lies on a nearby medical satellite. There, help comes in the unlikely coupling of eccentric scientist Professor Marius and his dog-shaped computer, K-9...
But can they save the Doctor before he is utterly consumed by the enemy within?
SPECIAL FEATURES
Commentary by Louise Jameson (Leela), John Leeson (K-9), Bob Baker (Writer) and Mat Irvine (Visual Effects Designer)
Dreams and Fantasy The cast and crew recall the making of this story and even take the original K-9 for walkies!
Studio Sweepings A rare opportunity to go behind the scenes on the recording of this story, courtesy of a time-coded videotape recording
Visual Effect Mat Irvine meets up with his old colleague Ian Scoones at Bray Studios to talk about the visual effects for The Invisible Enemy
Blue Peter K-9 meets John Noakes and Shep
Optional CGI Effects
Trailers and Continuities BBC1 ephemera from 1977
Easter Egg
Radio Times Billings Listings from Radio Times (PDF DVD-ROM)
Photo Gallery
Coming Soon Trailer
Production Information Subtitles
Digitally remastered picture and sound quality
This story was originally broadcast on BBC1 between 1st — 22nd October 1977
K-9 and Company — A Girl's Best Friend:
For many years, investigative journalist Sarah Jane Smith travelled through space and time with her best friend — a Time Lord known as the Doctor. But all good things must come to an end, and they were forced to part. Sarah returned to Earth and her career, but before they went their separate ways, she made the Doctor promise not to forget her...
Sarah is looking forward to spending a quiet Christmas with her Aunt Lavinia in the sleepy village of Morton Harewood. But when she arrives, she finds her aunt is missing, and a surprise present from an old friend is waiting to be opened.
Sarah and her aunt's ward, Brendan, are soon caught up in the affairs of a mysterious cult who practise the black arts, and are preparing for a human sacrifice. But they have the Doctor's gift to aid them — a robot dog who answers to the name of K-9...
SPECIAL FEATURES
Commentary by Elisabeth Sladen (Sarah Jane), John Leeson (K-9), Linda Polan (Juno Baker) and Eric Saward (Script Editor)
The K-9 Files Cast and crew look back at the making of K-9 and Company, plus K-9's subsequent life in books and comic strips is examined
K-9 — A Dog's Tale K-9 himself answers a selection of questions about his life and career
Pebble Mill at One K-9's appearance on the 1981 Christmas show
Trails and Continuities A selection of off-air continuities announcements for the various BBC transmissions of this story
The Adventures of K-9 Adobe PDF versions of the four K-9 books for younger children (PDF DVD-ROM)
The K-9 Annual 1983 (PDF DVD-ROM)
Radio Times Billings Listings from Radio Times (PDF DVD-ROM)
Photo Gallery
Production Information Subtitles
Coming Soon Trailer
Digitally remastered picture and sound quality