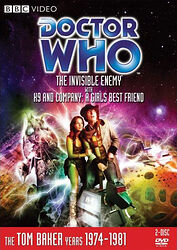 There are 3 reviews so far. To add a review of your own for this item, visit the voting page.
By:
Trevor Smith, Nottingham, United Kingdom
Date:
Tuesday 8 July 2008
Rating:
6
An average sort of DVD set. Not much to recommended on the The Invisible Enemy disc except another story that now looks a lot better with the optional CGI effects. As for K9 & Co, I suppose you either love it or hate it. I am in the latter.
By:
Huw Davies, Taunton, United Kingdom
Date:
Friday 23 January 2009
Rating:
6
Oh dear, oh dear! What WERE 2|entertain thinking?
The Invisible Enemy is one of Doctor Who's greatest clangers. The first 2 episodes set the scene well, but it ends in tears with a giant prawn, some scales and a bit of grey hair.
But if you thought that was bad, K-9 and Comany is truly dreadful. It is 50 minutes of faff, 50 minutes of anyone's life wasted.
The extras are OK, but nothing special.
| | | |
| --- | --- | --- |
| | | |
| | Do this again please BBC... | |
| | | |
By:
Matthew David Rabjohns, Bridgend, United Kingdom
Date:
Monday 2 May 2011
Rating:
8
The ruined version! What happened to the end of episode three?! Oh, this is horrible for a fan who always had had something of a soft spot for the heavily maligned The Invisible Enemy. Yes, there are those flaws aplenty, but I still love the story, its great! That giant prawn really is very very likeable. And Louise Jameson is her usual brilliant primitive Leela. The sets inside the Doctor's brain are highly imaginative, although Ive always wondered where his blood was and just how they breathed in there! But he is an alien anyway so..maybe! Please though BBC, re-release this with the episode three untampered with please if thats ok. I love this story and want it undefiled please! That bit of editing was rubbish and ruined it so much for me!

K9 and Company isnt bad at all thanks. John Leeson comes back with that oh so memorable voice, and Elisabeth Sladen was wonderful again as Sarah Jane, it really is tragic about her death. Very sad indeed. She always was such a brilliant companion. Im glad we had the four seasons of The Sarah Jane Adventures too. Theyre something very special!