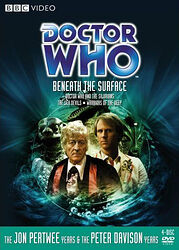 Edition:
US (DVD)
Released:
June 2008

Publisher:
BBC Video
Format:
4 x DVD
Owned:
Buy:
Note: As with the Warriors of the Deep DVD, Mat Irvine's name is mis-spelt "Matt" twice on the back cover blurb.
Cover blurb:
All three classic battles with the Silurians and the Sea Devils!
Doctor Who and the Silurians — (7 eps, 175 mins)
The Doctor is summoned to an underground research center to investigate a series of inexplicable power losses and soon discovers that the nearby cave system conceals a colony of an ancient race called the Silurians. Available in color for the first time!
The Sea Devils — (6 eps, 147 mins)
When the Doctor and Jo Grant pay a visit to the Master at a top security prison off the south coast of England, the Doctor soon finds himself pitted against the Sea Devils, an ancient race of reptile [sic] intent on eliminating humankind.
Warriors of the Deep — (4 eps, 97 mins)
When the TARDIS is forced to make an unplanned visit to Sea Base Four, the Doctor, Tegan and Turlough find themselves accused of being enemy agents. However, there is a greater threat to humankind: the Silurians and Sea Devils have formed an alliance.
DVD EXTRAS INCLUDE:
Commentary by actors Caroline John, Nicholas Courtney, Peter Miles, Geoffrey Palmer, Peter Davison and Janet Fielding, directors Timothy Combe and Michael Briant, producer Barry Letts, script editors Terrance Dicks and Eric Saward and visual effects designer Matt Irvine
What Lies Beneath Silurians background featurette (35 mins)
Going Underground Silurians Making Of (19 mins)
Now and Then Silurians location featurette (9 mins)
Musical Scales Retrospective on an era of musical experimentation in Doctor Who (13 mins)
Color Silurian Overlay Silurians color restoration featurette (4 mins)
Hello Sailor! Sea Devils Making Of (36 mins)
8mm Film Sea Devils behind-the-scenes amateur film (3 mins)
The Depths Warriors of the Deep Making Of (31 mins)
They Came from Beneath the Sea Featurette on the realization of the Silurians, Sea Devils and the Myrka (13 mins)
Science in Action Matt Irvine interview (6 mins)
Trails and Continuities
Isolated Music
Radio Times Listings (DVD-ROM PC/Mac)
The Making of Doctor Who (DVD-ROM PC/Mac)
Photo Galleries
Production Note Subtitles
Digitally remastered picture and sound quality
Originally transmitted: Doctor Who and the Silurians (January 31 — March 14, 1970), The Sea Devils (February 26 — April 1, 1972), Warriors of the Deep (January 5,6 — January 12,13, 1984)