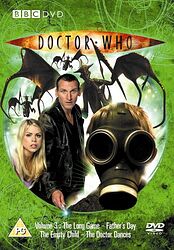 Edition:
UK (DVD)
Title:
Volume 3: The Long Game - Father's Day - The Empty Child - The Doctor Dances
Released:
August 2005

Publisher:
BBC Video
Format:
1 x DVD
Owned:
Buy:
Note: Released before Series 2 was confirmed by the BBC, hence why the title doesn't mention "Series 1".
Cover blurb:
"Brilliantly emotional, Doctor Who has to be the most ingenious primetime drama in years." ***** Heat
THE LONG GAME
In the far future, Satellite 5 broadcasts to the entire Earth Empire. Nothing escapes the eye of the sinister Editor and the Doctor suspects mankind is being manipulated. But just who is the Editor working for? And does Adam have what it takes to become the Time Lord's companion?
FATHER'S DAY
The Doctor and Rose return to 1987 and the scene of her father's tragic accident. But when she interferes in the course of events, the monstrous Reapers are unleashed upon the world and a wedding day turns into a massacre. Even the Doctor is powerless as the human race is devoured.
THE EMPTY CHILD
London, 1941, at the height of the Blitz. The army guards a mysterious cylinder and homeless children, living on bombsites, are terrorised by an unearthly child. Rose meets the dashing Jack Harkness and wonders if she has found a hero even better than the Doctor?
THE DOCTOR DANCES
In the second part of The Empty Child Story [sic], the Child's plague spreads throughout Wartime London with its zombie army on the march. The Doctor and Rose form an alliance with Captain Jack, but find themselves trapped in the abandoned hospital. The answer lies at the bombsite, but time is running out...