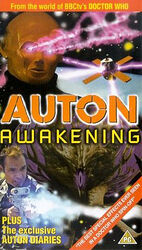 Edition:
UK (reissue VHS)
Title:
Auton: Awakening
Released:
April 2000

Publisher:
Reeltime Pictures
Format:
1 x VHS PAL
Owned:
Buy:

| | | |
| --- | --- | --- |
| | | (Not currently available) |
Cover blurb:
"we are time, Lockwood, and you are but a nanosecond in the history of my species..."
UNIT Set up to tackle human contact with the extraterrestrial and paranormal — especially when that contact proves dangerous!
THE NESTENES A malevolent alien consciousness waiting [sic] its chance to invade Earth.
AUTONS Deadly plastic killing machines controlled by the alien Nestene Consciousness.
THE CONTAINMENT TEAM UNIT's way of dealing with its own mistakes. Its brief: to stop the contamination of Earth by any means necessary.

Lockwood holds they key to the Nestenes' invasion of Earth, but UNIT's enigmatic and wayward operative is missing...
With computers failing worldwide plus an entire city deserted and sealed off by Autons, UNIT's strongest telepath, Palmer, must exploit everything and everyone to save the Earth for humanity.
With some of the most stunning visual effects ever seen from the world of BBCtv's DOCTOR WHO, Auton Awakening is not to be missed!
PLUS! The Auton Diaries Have you ever wondered what happens to Autons between programmes — when they're "resting"? This is the story of one such Auton and his search for a career after the BBC threw him out onto the streets... and how he found BBV!