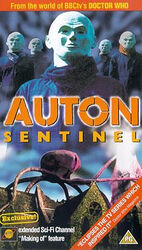 Edition:
UK (reissue VHS)
Title:
Auton: Sentinel
Released:
March 1999

Publisher:
Reeltime Pictures
Format:
1 x VHS PAL
Owned:
Buy:

| | | |
| --- | --- | --- |
| | | (Not currently available) |
Cover blurb:
"we have been colonising other planets for a thousand million years"
UNIT Set up to tackle human contact with the extraterrestrial and paranormal — especially when that contact proves dangerous!
THE NESTENE A malevolent alien consciousness awaiting its chance to invade Earth.
AUTONS Deadly plastic killing machines controlled by the alien Nestene Consciousness.
THE CONTAINMENT TEAM UNIT's way of dealing with its own mistakes. Its brief: to stop the contamination of Earth by any means necessary.

When a shipment of lifeless Autons is hijacked en-route to a secret research facility, Lockwood, head of UNIT's Containment Team, suspects the Nestene Consciousness is responsible.
His fears are realised as he finds himself drawn to Sentinel Island, where the population has become embroiled in a frenzy of bizarre religious practices.
With time running out, hostile islanders, and an army of now deadly Autons to face, how can he possibly stop the Nestene from invading Earth.... especially when UNIT itself suspects he is a Nestene pawn?
PLUS! An exclusive extended version of the Sci-Fi Channel's behind-the-scenes look at the making of Auton: Sentinel — featuring interviews with cast and crew!