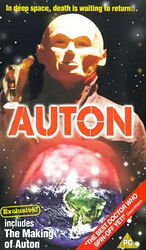 Edition:
UK (reissue VHS)
Released:
March 1998

Publisher:
Reeltime Pictures
Format:
1 x VHS PAL
Owned:
Buy:
Cover blurb:
"Your death certificates have already been prepared by UNIT..."
UNIT Set up to tackle human contact with the extraterrestrial and paranormal — especially when that contact proves dangerous!
THE WAREHOUSE UNIT's highly classified storage and research establishment. Here lie the dead, forgotten relics of past battles and encounters.
AUTONS Deadly plastic killing machines controlled by the alien Nestene Consciousness.
THE CONTAINMENT TEAM UNIT's way of dealing with its own mistakes. Its brief: to stop the contamination of Earth by any means necessary.

When Doctor Sally Arnold experiments on an energy unit, the Nestene Consciousness reactivates its Autons and takes over The Warehouse. UNIT calls in The Containment Team and a life and death struggle begins.
The future of the human race is at stake!
The Autons appeared in two BBCtv Doctor Who stories, Spearhead from Space (1970) and Terror of the Autons (1971). This story is set in the present day, over thirty years later...
THE MAKING OF AUTON
A behind-the-scenes look at the making of this tense hour-long drama. Cast and crew discuss the creation shooting of AUTON and the challenges of an entirely studio-based production.