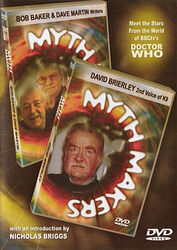 Note: DVD re-release of two interviews that were originally released separately on VHS: Myth Makers: David Brierley and Myth Makers: Bob Baker & Dave Martin
Cover blurb:
DAVID BRIERLEY — The 2nd Voice of K9
"I had no idea of the impact that little creature had... the kids loved him... and the grown-ups loved him as well!"
As one of Britain's dedicated character actors DAVID had built a career in television, theatre, radio and commercials that paid a living and still allowed him to walk down the street unnoticed. He was happy — he didn't really want to be K9's voice!
Perhaps it was the wealth of experience that DAVID could bring to K9, his ability to give K9 more depth, that appealed to CHRISTOPHER BARRY and JOHN NATHAN-TURNER when they were casting for CREATURE FROM THE PIT. Whatever their reasons — they wanted DAVID.
In this MYTH MAKERS, NICHOLAS BRIGGS finds out why DAVID finally took the job and the challenges and rewards he found. And why did he leave after only one season?
BOB BAKER & DAVE MARTIN — Writers
"BOB HOLMES told us the entire history of the Sontarans... their sexual habits and God knows what!"
BOB BAKER and DAVE MARTIN met in Bristol during the late 1960's. Their very first attempt at writing together almost made it to the big screen and from that time they've never looked back. From the classic days of drama at HTV, working on shows like SKY and KING OF THE CASTLE they progressed in the 1970's and early 1980's to becoming regulars writing for DOCTOR WHO.
In this MYTH MAKERS, NICHOLAS BRIGGS discussed with BOB and DAVE the creation of K9, its treatment by other writers, how the special K9 & COMPANY came about — and what they thought of it!
BOB and DAVE also reveal the ideas behind their DOCTOR WHO scripts and discuss a working relationship spanning thirty years which has allowed them to pursue separate careers which include detective novels for DAVE and the award-winning WALLACE & GROMIT for BOB.
SPECIAL FEATURES
Introduction by NICHOLAS BRIGGS and KEITH BARNFATHER.
Biography of all featured artists.