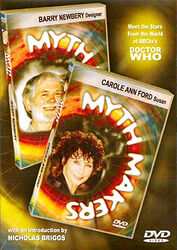 Note: DVD re-release of two interviews that were originally released separately on VHS: Myth Makers: Carole Ann Ford and Myth Makers: Barry Newbery. The Carole Ann Ford interview was later re-released as part of The Doctors: The Hartnell Years.
Cover blurb:
DOUBLE THE VALUE!
CAROLE ANN FORD — Susan Foreman
"So there was, presumably, a huge explosion on Gallifrey and because they were in the TARDIS it was just a flick of a button for them to be safe."
CAROLE ANN FORD portrayed a unique character in DOCTOR WHO. As SUSAN, The Doctor's granddaughter, she left Gallifrey with the errant Time Lord before the very first episode, AN UNEARTHLY CHILD.
This MYTH MAKERS combines two interviews with NICHOLAS BRIGGS, the first at Carole's home in 1985 and the second at a London TV studio in 1996.
Together they give a very personal view of the early days of DOCTOR WHO and the effects the programme had on CAROLE's life and career.
BARRY NEWBERY — Designer
"When I first showed the design to the lighting man he refused to light it! He said, 'I can't light that!'"
In the early days of television designers were experimenting in ways that are difficult to comprehend today.
In this MYTH MAKERS, NICHOLAS BRIGGS chats to BARRY NEWBERY about the challenges this brought and the change to colour pictures in the late 1960's.
Off and on, BARRY worked on DOCTOR WHO for over 20 years, from the very first story right through to THE AWAKENING in 1984. He has a unique view of the programme's history.
Jam packed with rare drawings and photographs, this is vintage MYTH MAKERS!
SPECIAL FEATURES
Introduction by NICHOLAS BRIGGS and KEITH BARNFATHER.
Biography of all featured artists.