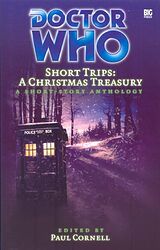 By:
Paul Cornell (ed.)
Rating:
8.4 (18 votes) Vote here
Review:
Festive Delights Read more (3 in total)
Released:
December 2004

Publisher:
Big Finish
ISBN:
1-84435-112-2
Format:
hardback
Owned:
Buy:

| | | |
| --- | --- | --- |
| | | (Not currently available) |

| | | |
| --- | --- | --- |
| | | (Not currently available) |

| | | |
| --- | --- | --- |
| | | (Unable to fetch price) |
Cover blurb:
Christmas and Doctor Who are inextricably linked. From the moment the Daleks first appeared at yule-tide to the regular Annual under the tree, the spooky cosiness of the season has always chimed with the series's own brand of comfortable thrill.
This collection covers every aspect of Doctor Who at Christmas, from the Fourth Doctor and Romana wisecracking their way through opening their presents to the Seventh Doctor encountering a dangerous something from Christmas past; from the Sixth Doctor running into another Christmas TV institution to the Eighth Doctor's lonely vigil in a frozen landscape. The Fifth Doctor visits an old companion, the First Doctor lands in a house where Christmas doesn't go as planned, while the Second Doctor finds he has to have a serious chat with Santa Claus. And Bernice Summerfield experiences Christmas on the Braxiatel Collection. Unfortunately.
There are hidden links between many of the stories, which are themselves arranged like a symmetrical snowflake. This being Christmas, alongside the tales, there are instructions for building your own Who adventure game, a monster party game (careful how you play it!), poems both nostalgic and jolly ­ including one by accomplished poet Jo Fletcher ­ and four delicious Christmas recipes with a Doctor Who makeover, making this a real stocking-filler of a compendium, the ideal gift for followers of the show, young and old.
Contents:
Last Christmas by Simon Guerrier
UNIT Christmas Parties: First Christmas by Nick Wallace
In the TARDIS: Christmas Day by Val Douglas
Water's Edge by Peter Adamson
A Yuletide Tail by Dave Stone
Spookasem by Peter Anghelides
Christmas Special by Marc Platt
Never Seen Cairo by Darren Sellars
The Man Who (Nearly) Killed Christmas by Mark Michalowski
Last Minute Shopping by Neil Perryman
Every Day by Stephen Fewell
The Little Things by Paul Beardsley
UNIT Christmas Parties: Christmas Truce by Terrance Dicks
The Clanging Chimes of Doom by Jonathan Morris
Perfect Present by Andy Campbell
Present Tense by Ian Potter
Goodwill Toward Men by Shaun Lyon
It's a Lovely Day Tomorrow by Martin Day
All Our Christmases by Steve Lyons
Lily by Jackie Marshall
...Be Forgot by Cavan Scott and Mark Wright
UNIT Christmas Parties: Ships That Pass by Karen Dunn
Evergreen by Stephen Cole