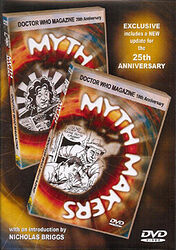 Note: A compilation of the previous Marvel Comics and DWM Myth Makers videos, with brand new material covering DWM's 25th anniversary.
Also, there's no "biography of both featured artists" as listed in the special features. All the previous Myth Makers DVDs had this feature, just not this one — so it's understandable that someone forgot to delete the text! Subsequently re-released as part of the Myth Makers: Doctor Who Magazine box set.
Cover blurb:
DOUBLE THE VALUE!
DOCTOR WHO MAGAZINE
1. 10th Anniversary (1989)
"I wouldn't want the magazine to be taking any editorial stance one way or the other on the way the programme is produced..." John Freeman
Intrepid NICHOLAS BRIGGS delves into DOCTOR WHO MAGAZINE's past, studies its production and looks to the future.
Along the way he talks to editor JOHN FREEMAN, artists JOHN RIDGEWAY [sic] and LEE SULLIVAN, long term contributor GARY RUSSELL and many more.
This is a fascinating look at a unique publication in its 10th year, covering every aspect of its production and development.
2. 20th Anniversary (1999)
"It's the one link that people have to the rest of fandom and the sense of what's going on." Gary Gillatt
Through a variety of different owners, editors, writers, artists and contributors — DOCTOR WHO MAGAZINE (DWM) has reviewed, analyzed, supported and created new fiction about DOCTOR WHO for 20 years.
Reeltime's cameras were at City University for DWM's "20th Birthday Bash" where NICHOLAS BRIGGS managed to corner GARY GILLATT, DEZ SKINN, J. JEREMY BENTHAM, ANDREW PIXLEY, GARY RUSSELL and guest editor SOPHIE ALDRED to discuss the magazine's successes and failures and what the future may hold.
3. 25th Anniversary (2004)
Reeltime's cameras dropped in on current editor CLAYTON HICKMAN and assistant editor TOM SPILSBURY, to get a snapshot of DWM today and look to the future with a new DOCTOR WHO television series in production...
SPECIAL FEATURES
Introduction by NICHOLAS BRIGGS and KEITH BARNFATHER.
Biography of both featured artists.