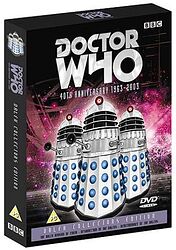 Description: Region 2 DVD box set exclusive to UK retailer WH Smith. Contains the previously released Doctor Who DVDs The Dalek Invasion of Earth, Resurrection of the Daleks and Remembrance of the Daleks, packaged together in a fold-out digipak box, and limited to 5,000 numbered copies.
Cover blurb:
The Daleks: a ruthless race of time-travelling mutants set on universal domination. The ultimate soldier race, they have fought throughout the galaxy - their cries of 'Exterminate, Exterminate' striking fear into their enemies. The Doctor is the one man to have stood between them and their evil ambitions, and he will be needed again...
THE DALEK INVASION OF EARTH
By Terry Nation. Starring William Hartnell
Can the Doctor and his assistants stop the Daleks' audacious plans for Earth and save mankind from extermination? Directed by Richard Martin. Produced by Verity Lambert.
RESURRECTION OF THE DALEKS
By Eric Saward. Starring Peter Davison
"Once the Doctor is exterminated, I shall build a new race of Daleks. They will be even more deadly and I, Davros, shall be their leader!" Directed by Matthew Robinson. Produced by John Nathan-Turner.
REMEMBRANCE OF THE DALEKS
By Ben Aaronovich. Starring Sylvester McCoy
Two rival Dalek factions battle for the Hand of Omega, a powerful Time Lord device. Directed by Andrew Morgan. Produced by John Nathan-Turner.
WITH COMPREHENSIVE SPECIAL FEATURES INCLUDING: DELETED SCENES AND OUT-TAKES; COMMENTARIES; NEWLY RECORDED INTERVIEWS WITH PRODUCTION TEAM, CAST AND CREW; DOCUMENTARIES AND PROGRAMME EXCERPTS.