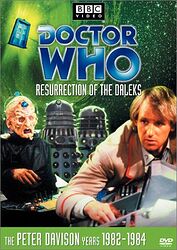 Edition:
US (standard DVD)
Released:
July 2003

Publisher:
BBC Video
Format:
1 x DVD
Owned:
Buy:
Cover blurb:
Trapped in a time corridor, the TARDIS veers off course, emerging in London's deserted docklands. In the far future, a prison ship in deep space comes under attack. These two remote events are linked by one terrible purpose.
Davros, the ruthless creator of the Daleks, has been liberated after 90 years of imprisonment to assist in the resurretion of his Dalek army. He's their best hope for finding the antidote to the deadly anti-Dalek virus devised by their longtime robotic rivals, the Movellans.
Davros sets about his appointed task with a secret agenda of his own — one that may force the Doctor to descend to Davros' level of evil.
DVD EXTRAS INCLUDE:
Commentary by actors Peter Davison and Janet Fielding and director Matthew Robinson
On Location with Eric Saward & Matthew Robinson
Specially recorded John Nathan Turner interview
Extended/Deleted Scenes
BBC Radiophonic Workshop featurette (from Breakfast Time — March 15, 1984)
Interview with John Nathan Turner and Janet Fielding (from Breakfast Time — October 20, 1986)
Production Note Option
Photo Gallery
Trailer
TARDIS-Cam No. 4
5.1 Sound Option
Originally transmitted February 8-15, 1984