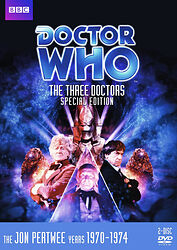 Edition:
US (special DVD)
Title:
The Three Doctors: Special Edition
Released:
March 2012

Publisher:
BBC Video
Format:
2 x DVD
Owned:
Buy:
Note: This is the same special edition (i.e. remastered and with additional extras) that was released in the UK and Australia as part of the Revisitations 3 box set. And like Revisitations 3, the "Jon Pertwee at Panopticon" extra from the original DVD release has been removed due to rights issues, but all other extras from the original release are present.
Cover blurb:
The Time Lords are in crisis. A powerful force is draining their energy into a mysterious Black Hole — and they must recruit the Doctor to save them. But one Doctor isn't enough for this mission.
All three of the Doctor's incarnations, aided by Jo Grant and UNIT, must face the wrath of Omega — a fallen Time Lord trapped in a universe of anti-matter, with one thing on his mind: revenge.
DVD EXTRAS INCLUDE:
Audio Commentary with actors Katy Manning (Jo Grant), Nicholas Courtney (Brigadier Lethbridge-Stewart) and producer Barry Letts
Happy Birthday To Who New Making Of with actors Katy Manning and Stephen Thorne (Omega), Barry Letts, script editor Terrance Dicks and co-writer Bob Baker (23 mins)
Was Doctor Who Rubbish? Raising a defense against criticism of the classic series (14 mins)
Girls, Girls, Girls — The 70's with Katy Manning, Caroline John (Liz Shaw) and Louise Jameson (Leela) (21 mins)
Pebble Mill At One Archival interviews with the second Doctor Patrick Troughton and visual effects wizard Bernard Wilkie (20 mins)
Blue Peter Jon Pertwee introduces the Whomobile (13 mins)
BSB Highlights Cast and crew discuss The Three Doctors during BSB's 1990 Doctor Who weekend (10 mins)
The Five Faces Of Doctor Who The full trailer for the 1981 repeat season (4 mins)
BBC1 Trailer The 1972 trailer for Episode One (1 min)
40th Anniversary Trailer (3 mins)
Photo Gallery (4 mins)
PDF materials: Radio Times Listings
Production Notes Subtitle Option
Digitally remastered picture and sound quality
Originally transmitted December 30, 1972 - January 20, 1973