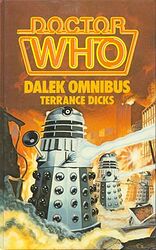 Note: Compilation of three Target novelisations in one hardback volume. Not to be confused with Doctor Who and the Daleks Omnibus.
Cover blurb:
The Daleks, coldly efficient machines of death, the Doctor's most hideously ruthless enemies, captured the imaginations of Dr Who fans everywhere. This omnibus edition brings together three chilling Dalek stories — Dr Who classics!
THE DALEK INVASION OF EARTH
The TARDIS brings the Doctor and his companions to London at a time in the future when the city is ruled by the Daleks. Underground freedom-fighters are resisting the merciless dictatorship of their inhuman masters and the Doctor has no doubt which way his sympathies lie...
PLANET OF THE DALEKS
The TARDIS materialises on the planet Spiridon in the midst of a tropical jungle where vicious plants spit deadly poison, invisible Spiridons attack from all sides, and a vast army lies hidden, waiting for the moment to mobilise and conquer...
DAY OF THE DALEKS
The Doctor is caught up in a desperate bid by a group of twenty-second-century guerilla fighters to return to twentieth-century Earth and assassinate the man they believe was responsible for the outbreak of the Third World War and all its terrible consequences...