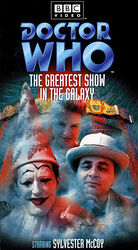 | | | |
| --- | --- | --- |
| | | |
| | Reviews for The Greatest Show in the Galaxy | |
| | | |
There are 7 reviews so far. To add a review of your own for this item, visit the voting page.
| | | |
| --- | --- | --- |
| | | |
| | Slow Start, but gets there almost. | |
| | | |
By:
Who Lover., Melbourne, Australia
Date:
Tuesday 23 November 2004
Rating:
2
I must say watching the first two episodes, explains why the show died! Slow, boring, and pointless. Poor script writing & direction being the main problem.

However, the next two episodes were an improvement. If given some editing it would make a good two parter.
-4 for the first two epidsodes. 6 for episodes 3 & 4.
By:
ste, cumbria
Date:
Saturday 10 December 2005
Rating:
7
This is a good decent dr who story nothing amazing but nothing awfull. There are no brill performances and no bad ones its just ok. You cant help but like it its just very very nice and likeable
This 4 part adventure starring Sylvester McCoy and Sophie Aldred is rather spooky. Spooky robot clowns, werewolves and God knows what else. The Greatest Show in the Galaxy is sure to send a shiver running down everyone's spine. It also shows a darker side to Sylvester McCoy. I think it should be in everyone's top ten. Overall 10/10.
| | | |
| --- | --- | --- |
| | | |
| | Unravelling the fabric of time....... | |
| | | |
By:
Brian Ridder, Littleton, United States
Date:
Saturday 2 December 2006
Rating:
3
"The Greatest Show In The Galaxy" is a story that suffers so much from excess baggage that it is no wonder "Doctor Who" left the airwaves 4 stories later. Sylvester McCoy turns in an admirable performance as the Seventh Doctor and Sophie Aldred is an ok companion as Ace, but the chemistry that so many Doctor/companion teams have had is just not there, at least not yet (It would get stronger in the next season, especially in "Ghost Light" and "The Curse Of Fenric"). The guest stars seemed like they were bored and it showed in a lot of uninspiring performances. Then, if that wasn't bad enough, the story really falls flat on it's face. The clowns try to be scary but are not, the Gods of Ragnarok try to be menacing but are not, and the whole circus idea just flops badly. The action always seems to go at a snail's pace and it really just leaves the viewer guessing more often than not without explaining anything. You could tell the series was in trouble at this point as it closed out Sylvester McCoy's second season as The Doctor. I really wish this had been made as a three-parter as opposed to a four-parter, they could've tightened up the story that way and it would have been much better. I say give it a try and see for yourself, but I wouldn't hold my breath.....
| | | |
| --- | --- | --- |
| | | |
| | The best Sylvester Mccoy outing by far.. | |
| | | |
By:
Matthew David Rabjohns, Bridgend, United Kingdom
Date:
Monday 21 July 2008
Rating:
10
Walking a fine line between horror and humour has long been a doctor who staple, but here it is done to its fullest potential. This is brilliant viewing.

The Greatest show in the galaxy for me sums up all that was brilliant about the classic series. Nasty alien gods, nasty professors, and add to this freaky and creepy clowns and you get a real taste of brilliance.

Steven Wyatt impressed with his debut, Paradise Towers, but even that isnt half as good as this cracker of a script. The action scenes particularly are extremely well handled and are for once believable. The characters are solid and all well characterised, the acting standard very high indeed.

Sylvester Mccoy is really going places as the doctor now. And SOphie ALdred pulls another great performance out of the bag. Imust admit that my favourite cliffhanger ever is on this stroy. EPisode three when Mags turns into the werewolf, quite a brilliant piece of work. Those teeth look really quite vicious. Even the nicely tinny bus conductor manages to be creepy and eerie.

ANd the visuals are stronger than usual.The god temple is excelletn, and the pit is one of the best ive ever seen. Quite frankly, the new series of doctor who is great, but has still to match this excellent story. Steven Wyatt is the Robert Holmes of the sylvester mccoy period. Great Doctor Who.
By:
Ruby Simkin, Australia
Date:
Sunday 1 February 2009
Rating:
9
Great story

Great video cover

Selvester mcCoy is one of my fav doctors hes funny and a great actor
ace is too.

The clowns were good, but creepy, scary and spooky!
| | | |
| --- | --- | --- |
| | | |
| | Clowns, Eyes, Werewolves, What's better? | |
| | | |
By:
kieren, kidderminster
Date:
Friday 6 March 2009
Rating:
9
Brillant music, good humour,good performances and a very good story, only suffering from bad cliffhanger syndrome