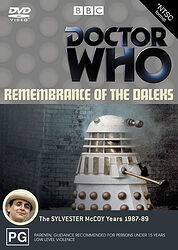 | | | |
| --- | --- | --- |
| | | |
| | Reviews for Remembrance of the Daleks | |
| | | |
There are 11 reviews so far. To add a review of your own for this item, visit the voting page.
| | | |
| --- | --- | --- |
| | | |
| | The Doctor and Ace make a great team | |
| | | |
By:
William Harris, Perth, Western Australia
Date:
Thursday 30 May 2002
Rating:
10
The 7th Doctor & Ace vs The two Dalek factions
and (Ratcliffe, Man from Special Branch)Which also sees the return of Mad Scientest Davros.
Best bit is when the Doctor tricks Davros into using the hand of Omega Turning Skaro into Supernova.
| | | |
| --- | --- | --- |
| | | |
| | An awesome intro to the 7th Doctor | |
| | | |
From the opening title sequence and that great theme song this DVD does not let up. I love the story with Daleks fighting Daleks and the men who try to appease them. This was my first experience with Sylvester McCoy as the Doctor and I was not disappointed. I hope more from this era is released on DVD.
| | | |
| --- | --- | --- |
| | | |
| | 1 of the Best Dr Who Storys Ever!!! | |
| | | |
Just fatastic the 7th Dr coming face to face with his worst enemys the Daleks & their creator Davros!!! Overall 10/10 Fantastic!!!
This is one of the finest Doctor Who stories ever. Sylvester and Sophie work brilliantly together, and the Dalek action is well executed.
The DVD extras, although noticeably sparse, are good too. With a few outtakes and a commentary from Sylvester McCoy and Sophie Aldred.
By:
Whites, Southend, UK
Date:
Friday 24 November 2006
Rating:
10
Best Doctor for me. Seasons 25 & especially 26 are in a league of their own.
This story i favoured by myself for so many reasons. I love this story because ever since i was little, i have sat through it avidly and listened to it tentativly. I love the fact the daleks despise one another for what Davros has done to them. The settings brill, taking the Doctor back to the school from the Unearthly child. I particularly liked Sylvesters portrayal as the timelord as he was a very dark and mystrious character, i thought. I liked it from beginnig to end and to buy it on DVD would have to be a must for myself because i already have two versions on video and i do not want to ruin my cassetss so it would be great to have on DVD!
By:
Huw Davies, Taunton, United Kingdom
Date:
Saturday 17 May 2008
Rating:
9
Definitely the best McCoy story, Remembrance of the Daleks has to also be one of the better Dalek stories as well, superior to those such as The Chase and Destiny of the Daleks. A nice touch, also, with the whole story being set in and around Coal Hill School.
By:
Kyle K.K, London
Date:
Saturday 18 July 2009
Rating:
10
Great story from Sylvesrer McCoy and Sophie Aldred. The DVD cover could of been better.
By:
J, S
Date:
Tuesday 21 July 2009
Rating:
10
best story of classic who. 10/10
By:
Huw Davies, Taunton, United Kingdom
Date:
Saturday 3 October 2009
Rating:
10
As I have got a new computer since my original review, I have decided to write a review on the newly released special edition.
This new release features two documentaries: 'Back to School', a making-of, and 'Remembrances' (my favourite of the two), a look at the continuity in this nostalgia-fest. Also a good addition is a 5.1 soundtrack, which is always a good thing.
By:
Matthew David Rabjohns, Bridgend, United Kingdom
Date:
Thursday 31 March 2011
Rating:
9
This is the best of the white/black dalek faction tales, in that the characters are extremely well rounded, even the cameo roles are all highly memorable and imprsionable. And Sylvester McCoy is excellent throughout the tale, really a most excellent Doctor. Sophie Aldred's Ace is already developing into one of the best companions ever, as she always has been a favourite of mine. I love her interpretation of the role, its so engaging and sympathetic. Her dalek bashing seqeunce is highly brilliant. And Terry Molloy is back on brilliant form as Davros. The action is pretty unrelenting too, and the Daleks go up stairs at last! The end of this tale too is poignant and understated, and embued with genuine feeling. The seventh Doctors three seasons were all exceptionally good, and Remembrance of the Daleks is one of the very best dalek tales Ive seen or heard. Highly recommended. Good to see Michael Sheard and Peter Halliday too again, they both make their presences felt even in the short amount of scenes theyre both in. I like the racial theme to this story, and Aces disgust at that sign on the window i heartily agree with! This is Doctor Who at its most engaging and thoughtful. Those explosions too are rollicking!