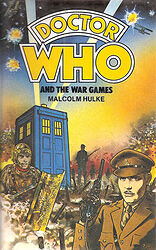 | | | |
| --- | --- | --- |
| | | |
| | Reviews for Doctor Who and the War Games | |
| | | |
There is 1 review so far. To add a review of your own for this item, visit the voting page.
| | | |
| --- | --- | --- |
| | | |
| | Read this booK and was hooked | |
| | | |
By:
C G Harwood, Dunedin, NZ, New Zealand
Date:
Sunday 16 December 2007
Rating:
10
When i first started collecting Dr Who books and stuff I had no intention of reading any of them, it was just something to collect. This was the first Dr Who book i ever read and i have to say that i have been hooked ever since.
Now its been 10 years since the first time i read it and now that i read it again i have new reaspect not only for this book or Mr Hulke, but for the Target novels in general.
To get a story that is a 10 episode epic into a book that was less than 150 pages was a mamath task that the author did very well, abd becuse of that he was and still is (of the Target novels atleast) my favorate author.
his style to take a little time away from the plot to introduce us to the charecter and scene setting is a welcolm change from some of the Terrence Dicks books that we got later on (no disrepect intended Nr Dicks).
Of course the first time i read it i had no idea that this was The 2nd Dr's last story so when the regeneration happened i couldn't put it down, and couldn't wait to read the next book in my collection (which i should point out at that point in time consisted of about 10 books.) which was Cave Monsters, which i will do a review when i get a chance.
But this book was great, and it is a lot of the reason that i am such a fan now. Thank you Mr Hulke for everyhing. If you are new to the series definately read this before you watch it.
10 out of 10 from me.