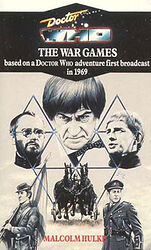 Edition:
UK (2nd paperback)
Title:
Doctor Who: The War Games
Released:
February 1990

Publisher:
Target
ISBN:
0-426-20082-9
Format:
paperback
Owned:
Buy:
Note: Same ISBN as previous paperback edition. This and An Unearthly Child (published simultaneously) were the first of the so-called "blue spine" Virgin reprints — approximately 70 Target novelisations reprinted with new cover designs between 1990 and 1994 after Virgin Books took over the Target imprint.
Cover blurb:
I think we have arrived in one of the most terrible times in the history of the Earth...
Mud. Barbed wire. The smell of death. The year is 1917 and the TARDIS has materialized on the Western Front during the First World War.
Or has it? Escaping from execution by firing squad, the Doctor, Jamie and Zoe meet charioteers from Ancient Rome, Georgian Redcoats, and confederates from the American Civil War.
Someone — someone as knowledgeable as the Doctor himself — has created a simalcrum of Earth, and has gathered soldiers from every era of the planet's bloody history. And that someone is playing war games.
This adventure was first broadcast on television in 1969. It marked the end of Patrick Troughton's tenure in the role of the Doctor, and it revealed for the first time something of the Doctor's past and of his fellow Time Lords. This novelization, first published in 1979, is by Malcolm Hulke, one of the writers of the original television script.