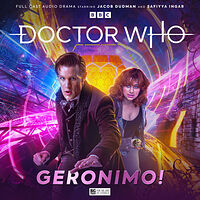 There is 1 review so far. To add a review of your own for this item, visit the voting page.
By:
Jay Hunter, Burlington, Canada
Date:
Monday 24 July 2023
Rating:
10
I'd like to begin by complimenting the voice work of Jacob Dudman and Safiyya Ingar; Jacob brings such fantastic work to the Eleventh Doctor, simultaneously embodying Matt Smith's performance with his own spin on the role! And my stars, the biggest of compliments to long-time Doctor Who fan Safiyya Ingar for her incredible performance as the fantastic Valarie Lockwood. Through listening to this as well as the second box set Valarie has quickly become my favourite companion in all Doctor Who media, she's fiery, kind, funny, sarcastic, and sassy (Like mixing Amy, Donna and a little bit of Bill), and an all-around amazing addition that keeps the Doctor on his toes.

The stories written by Alfie Shaw, Georgia Cook, and Rochana Patel are fantastic and wonderfully written. Each one brings something new and exciting for Valarie and the Doctor to challenge and its finale is a big favourite of mine (Such a cool concept!). I'd recommend this story to anyone; whether a long-time Big Finish listener or someone looking to get into the extended Doctor Who universe (Audio edition). This boxset truly feels like it belongs up there with the show and its titles.