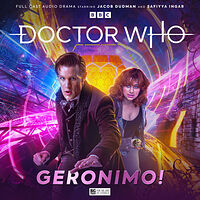 Cover blurb:
Out of retirement, and back traversing space and time, the Doctor has a new goal. Find the woman twice dead and save her from dying again. It's a monumental task, with all of history to search. He's going to need some help.
Valarie Lockwood knows what it's like to lose your friends. Trapped on a rig, she's doing everything she can to keep them alive. Except, it's too big a task just for her. She needs some help too.
The first box set in an unexplored era in the Eleventh Doctor's life.
THE INHERITANCE BY ALFIE SHAW
THE HOUSE OF MASKS BY GEORGIA COOK
THE END BY ROCHANA PATEL