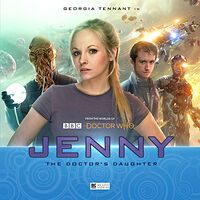 | | | |
| --- | --- | --- |
| | | |
| | Reviews for Jenny: The Doctor's Daughter | |
| | | |
There is 1 review so far. To add a review of your own for this item, visit the voting page.
| | | |
| --- | --- | --- |
| | | |
| | Comic Strip brilliance in Audio | |
| | | |
By:
Matthew David Rabjohns, Bridgend, United Kingdom
Date:
Wednesday 29 May 2019
Rating:
10
Why did the TV series just do a single episode with Georgia as Jenny? Couldn't they see the potential of her character? She had such promise and yet since then on screen she has been all but totally forgotten and forsaken. And I don't like this very much.

Thank the Good Lord that Big Finish have had the sense to create a series of her own adventures, at least they can see potential and capitalize upon it. And that they do so in this set with such ease and style is so awesome to behold. This is rather like a set of comic strips in audio form!

And then another great addition for story one of this set is Stuart Milligan as the slimy salamander froggy Garundel. A brillant actor and a really enjoyable and funny part. An intergalactic con man and his lackies who actually have a bit of backstory of their own too which is really good. To hear Stuart bouncing off Georgia is delightful.

Planet of the Ood then has the brilliant Ood back again, this being their first appearance in audio. I love the Ood, their being one of the very few new series aliens who have worked extremely well on screen. This story for them is fun and fast paced.

Neon Reign is very very straight and easy to comprehend. it is overtly complicated and because of that the story is all the more enjoyable and the characters are all very well formed and the story flows nicely to a great conclusion.

Zero Space ends the set on a high. And it also has a great little cameo that I wont give away so you can find it out for yourselves if you wanna give this box set a try. Which I would heartily recommend as this set is packed with brilliant sound design, brilliant characters, brilliant humour and is very well paced and each story has its own flavour and they all encapsulate the firm promise inherent in Jenny, the Doctor's daughter.

And Georgia Tennant has to be praised for her energy and enthusiasm, it rings from this whole set. One can only hope the next series is as good as this one was! This was was one hell of a way to start a series. This is a definite ten out of ten from me!